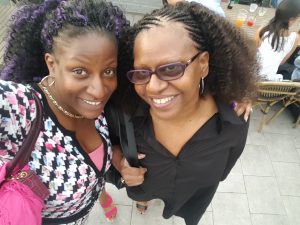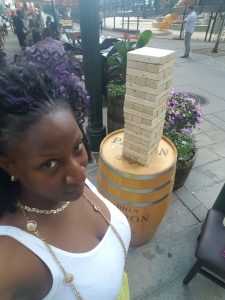 The FUN is in the details.  FUN is what you make it.  Are there any other clichés I can come up with… not really… all I know is, I always try to have a good time.  Otherwise, what's the point???
I attended two work related professional development meetings last week.  The first on Wednesday (6/22/16) with the Institute of Supply Management (ISM) a procurement organization where I was a long time member of the New Jersey and New York chapters.  The second, on Thursday 6/23/16, with the Conference of Minority Transportation Officials (COMTO) which I am exploring as new person to the field of transportation.
The ISM meeting was purely a networking event, meaning – no speeches.  It was held at a lovely bar on the South Street Seaport in NYC.  I wanted to attend this meeting because as a former long-term member of the organization, I thought it would be good to reconnect and meet new people in the field.  So I went, and forced myself to talk to people I don't know and I'm glad I did.  I met people from various industries from both NY and NJ.  I was surprised to meet the NJ folks, but since they came from Hoboken, it wasn't too far for them.  I also met fellow government workers from NY State, which is the governing body for my agency.  After learning we faced similar challenges, it was decided that a lunch meeting was in order and we need to plan it – STAT.   I talked to a woman from a pharma company, not about work, but about Game of Thrones.  (We are both super excited about the season finale this evening) But perhaps the best part of the evening was…
When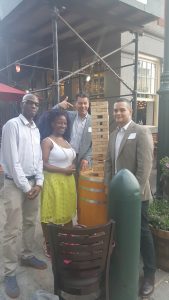 one of the people who traveled from Hoboken spotted KING-sized JENGA outside.  Since this bar is situated on South Street, it has an open air environment… open windows and doors and tables and games outside.  Foosball, ping pong, a few others, and JENGA.  We immediately put together a group of four and headed out for an us against them tournament.  Not really a tournament, but we did play a few games.  What a FUN way to break the ice with new people…
After the games the meeting came to a close.  A few of us stood around a talked a bit more but we eventually went our separate ways.  On my way to the PATH train, I decided to stop for a slice of pizza.  Actually it was a focaccia because I'm not a big fan of cheese.  I've been working in NYC for three years and have never stopped for a slice, but this evening, I bought it and ate it like a true New Yorker… while walking to the train.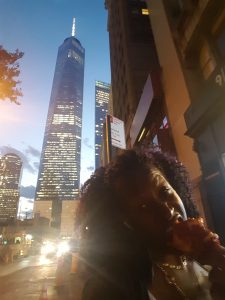 I had a good night at the ISM meeting and I am seriously thinking about rejoining… after all, I do need to keep my certification up to date and what easier way to do that than by participating in member meetings.
Thursday's COMTO meeting was much more structured.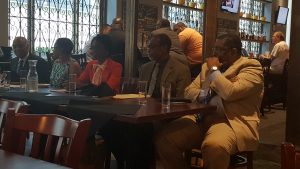 This meeting was hosted by COMTO's NJ Transit chapter and my mom is the one who told me about it so I went with her.  The formal portion of the meeting was held in the restaurant of the beautiful Indigo Hotel, downtown Newark, and the networking reception was moved upstairs to their rooftop bar.  The formal portion featured a panel discussion with some of the top people from various areas of the transportation industry.  The
discussion detailed their careers and some tools for us in the audience to prepare our careers to the next level. 
The evening was capped with time for all to mix, mingle, and exchange business cards atop the Newark's Indigo Hotel.  It was truly lovely to be on that rooftop and where what really stuck out for me is the prominence Prudential has in Newark, especially now with the second building.  From the top of the indigo Hotel, you have a perfect view of both buildings staggered one in front of the other.
While the COMTO meeting wasn't FUN on the level of the ISM meeting, both were excellent opportunities to meet new people on a professional level.  I am unsure of what, or how, or if these introductions will develop into new relationships, but I am at least grateful to myself for seizing the opportunity to participate in both meetings, for both organizations offer developmental opportunities for career growth as I look forward to my future within the transportation industry.