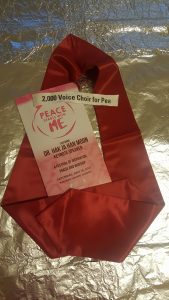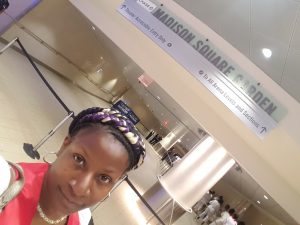 You ever take the 9am bus on a Saturday morning to be somewhere in NYC by 10am only to find out the thing you went to do doesn't start until 3pm???
Welp… that's exactly what I did today… and it was ssooooo worth it!!!  Because today I… me… yeah I said it… me… sang in front of a live audience… where??? At the FAMED… (wait for it…) …
Madison Square Garden… yeah I said it… MSG… me… live… with an audience… sang (like Slug) at the world famous… no… the infamous MADISON SQUARE GARDEN!!!!!!!!!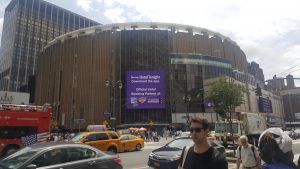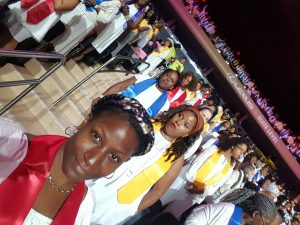 Last year CitiField… today MSG!  Here's the deal…
As a "member" of the McDonald's Gospel Choir, I often get emails encouraging me to participate in upcoming events where the choir has been asked to sing.  (Let's just say, this is my second event and the first was CitiField… check my blog for that story http://rashiamason.com/citifieldsanging/, clearly we get to pick and choose.)  So when I got the email to sing as a part of the 2000 Voice Choir at MSG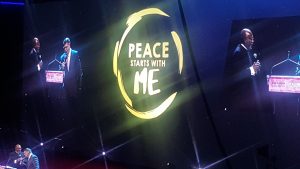 with Hezekiah Walker and Yolanda Adams on 7/15/17, there was no doubt that I was going, actually there was a bit of hesitation, but the opportunity to sing live at MSG, really… who am I kidding???  Perhaps my hesitation was all in my head, because I sho-nuf, shole-nuf… woke up today with every intent on being there.
Unfortunately… I didn't realize exactly what I was getting myself in to… let me start from the beginning…
As stated, I was on the 9am bus.  While on the bus, I notice a young gentleman dressed just like me… black pants and a white shirt.  I also happen to notice his murse (man-purse) and that he was carrying a bottle of water.  But I can't lie, it was the murse and water that made me think… he and I may be going to the same place… actually it was mostly the murse.  Anywho, I think to myself that I should ask him and if I'm right – we could travel from Port Authority (PA) to the venue together.  But then I think maybe it's not such a good idea to ask because I plan on taking the train one stop and if he doesn't have a Metro-card, I'd be stuck walking with him, some random stranger.  (If you know anything about me, you know that I am not all that new people friendly.)  Decision made: don't say anything.  Only to get to PA and I see the guy ask someone, while still on the bus, is this Port Authority?  And I think, good thing I didn't say anything because he clearly doesn't have a Metro-card if he doesn't know this is PA, so I keep moving.  As I I'm walking through the terminal, I come across the young man staring at his phone as if trying to figure out what to do next.  (Again if you know me… you know I can't stand people looking lost, not to help them, but they are just in the way.)  But something compels me to ask… are you going to the Hammerstein Ballroom?  To which he responds… OMG, yes I am, how did you know? To wrap this part of the story up… I ended up walking to the venue… go figure.
All that said…
The plan for the day according to the email was to participate in rehearsal at 10am this morning and then go sang at MSG at noon.  (Sounded like a bearable schedule, so I was all in!)
We arrive and I totally ditch the guy now that I got him there safely.  I find the line for the unregistered folks, because like I said, I wasn't really planning on going, sign in, and they tell me go inside for next steps.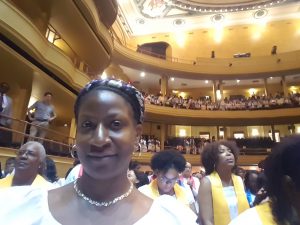 I get inside and like all choirs, the question is… soprano, alto, or tenor, my usual response (because I sing in church) alto, and I am directed to the alto specific seating area.  As we get started with warm-ups… they announce the schedule for the day.  Turns out, the show isn't until 3pm.  Wait… what?  Yes… 3pm.  But we're singing at MSG so I will totally sit around until then just to say that I sang at Madison Square Garden… yeah… I said it again… MSG!!!
I sit through rehearsal and everything is going well.  I met a really great group of people from Second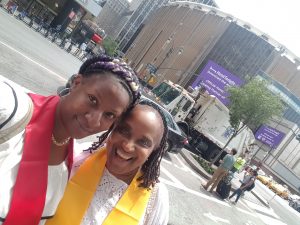 Baptist Church in Paterson, NJ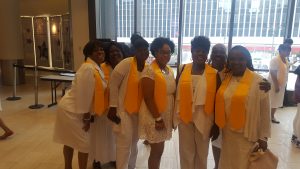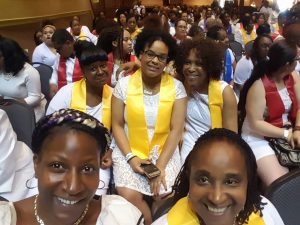 and I think to myself… there are worse things I could be doing on a Saturday afternoon, bring the rest of this day on.  We rehearse through a few songs, some I know and some I don't:
Blessings
Better
Every Praise
I Need You to Survive (one of my faves!)
Total Praise
Just as I'm thinking, I can do this, they announce that we are singing as a part of the Peace Starts with Me event and the keynote speaker will be giving the address in Korean and we will have to use the translator in our phones to interpret.  Wait… what??? At this point I think to myself, I didn't realize what I've gotten myself in to.  But never mind that, I am about to sing at MSG, so what's a little Korean?  I got this!!!  Let's get to MSG…
As the 2000+ voices are being directed the short walk from Hammerstein to MSG,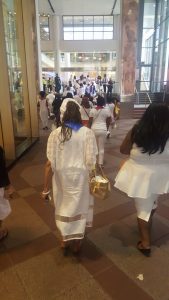 I realize it's a perfect day to be doing this.  The weather and my company is nice and we are all on our way to do something epic… sang at MSG!!! (Like really, I saw Stevie Wonder and Prince perform in this very building… and now ME!)  But of course in true NYC post September 11th fashion, all 2000+ are guided through the metal detectors where MSG security proceeds to take the leftover sandwiches, water, and chips everyone stashed in their bags for the trip home that we were provided as lunch for participating.  Next we are directed to our seats, which I thought was weird because we are in the show… we should be backstage in hair and makeup… you know… prepping… for the stage.  Only to find out, we'd be singing from the stands.  Fine… because I am still a part of the 2000 Voice Choir, our name is on the program, so that means I am still officially performing at MSG!!! And-that-is-all-that-matters.
Unfortunately, as we are being seated I realize it's only 12:57pm and the show doesn't start until 3pm.  Also unfortunately, it's not the length of time we need to wait, but it's the act onstage, that will ultimately be a part of the show, doing sound check that makes me say to myself… this is going to be a long afternoon… I'm not so sure singing at MSG is worth it.  But yeah…
Of course it is, so I go find an outlet for my cell phone charger, take a seat, pull my book out (because I can't leave home without a good read), and settle in until about 2:30pm and it's time to perform.  As 3:00pm approaches, the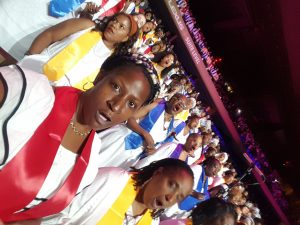 MC steps on stage and announces that it's almost time to get started and the seats begin to refill with 2000+ choir members, all eager to do one thing… sang at MSG!
Prior to the very start of the show, the choir director announces that we will do all three of Hezekiah's songs in succession (presumably so he could leave), after which the remainder of the program would continue.  (Sounds harmless enough, but…) the MC also reminds us that the keynote speaker speaks Korean and we could dial up these numbers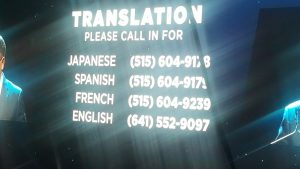 to have the message interpreted to receive the message in our respective languages, another thing that didn't sit well with me.  At this point, my determination to sit this thing through is on a continuous wane.  Luckily, we do all three Hezekiah songs first, quickly reducing the list of 5 songs down to two.  As the program moves forward, there are some acknowledgements, a few speakers, and the 2000 Voice Choir is asked to sang again, effectively bringing the remaining song count down to one.
Unfortunately with each song, but more effectively each speaker,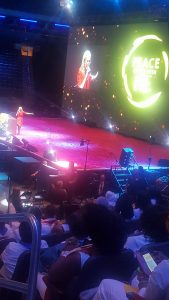 my interest in being there is severely diminished and I eventually concluded that I have achieved the goal.  I have sang at MSG as a part of the 2000 Voice Choir and it's time for me to leave.  I wish that I could report that I stayed to hear what the Korean lady said in Korean.  But the truth of the matter is, I would not have understood her anyway.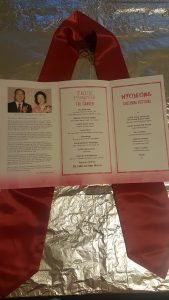 I went to NYC on a Saturday morning at 9am to sang at MSG. I got to sing one of my favorite Hezekiah Walker songs (I need You to Survive) with Pastor Hez himself and that Total Praise song was the truth.  Long story short…
MISSION ACCOMPLISHED!!!  I sang at MSG…
Truth is… many well-known artists have never had the opportunity to perform at MSG or CitiField.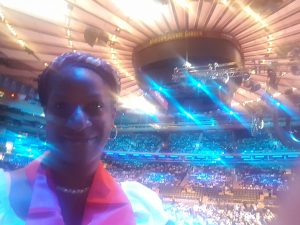 Me… BOTH…
Winter is coming… Sunday 7/16 on HBO…
40 is coming… August 3, 2017…
Until next time…