Oh Whatta Night… with BEYONCE!!!
June 7th, 2016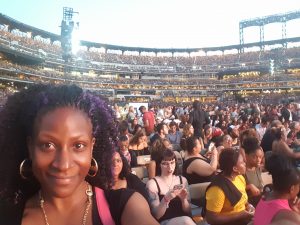 Some things are simply worth the wait… and last night I spent an AWESOME evening at Citi Field, with arguably… the greatest musical performer walking this earth today, BEYONCE Knowles-Carter (especially given the recent tragedies of some of our greats MJ, WH, Prince – Rest in Heaven with Love ALL), and 45,000 of my closest friends.
This is my fourth BEYONCE concert and she didn't disappoint.  But of course, I'm an actual fan so needless to say, she probably could NOT disappoint me, or at least I'll say it would take a lot.  Anywho… the show was both AWESOME and AMAZING.  The stage, the lights, the fire, the band, the dancers, the huge cube that moved around the stage displaying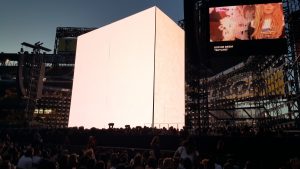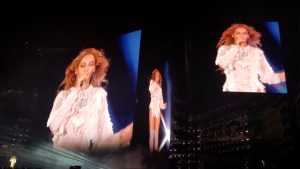 different images as the show progressed… it ALL was AMAZING.  There's something to be said for an artist who performs in those huge venues, knowing there is no way all those people will be able to see them on stage.  So she always (at least the times I've seen her live) incorporates huge screens with cameras following her every move so the crowd doesn't miss a thing.
She also uses the screen to display video images to tell the story, because for BEY… it's always an all-inclusive experience for her fans.  (She loves us!)  This time (a first) the use of a video cube allowed for multiple images on each side to feature her prominently while providing images of the dancers, acrobats, band, back-up singers (The Mamas), or anything else on stage that was happening in the moment.
This was my first time attending a concert at Citi Field and also my first concert with floor seats, and I must say… I was a bit disappointed with both.  Not saying I will never go back or get floor seats again because I had a great seat, 11th row floor seats.  When she came to our side of the stage she was right there.  Problem is, she spent a lot of time on the other side and on the secondary stage (which she always has to bring her closer to the fans).  Good thing we had the screens.  Also, apparently baseball fields don't want people on their grass, so there was a huge professional baseball diamond sized gap in between us on the field by the stage and those in the actual seats surrounding the stadium.  It actually made the venue feel a bit empty.  I'd be surprised if she went back there because I can imagine if you are used to sold out venues you are used to a packed house.  Not a hole in the middle. I guess except at baseball stadiums.  (BEY – Let's stick with MetLife from on now!)
Anywho… I digress… the show…
AWESOME!!! AMAZING!!! COLORFUL!!! THOUGHTFUL!!! and LOUD!!!  I literally felt the bass move through my body.  I am shocked I can hear anything today.  No… seriously shocked.  But I guess by the third song you kinda forget how loud the bass is (or the sound man adjusted it) and you let it take over your body (as music should) and you just enjoy the show.
She opened with the song FORMATION to include the Big Freedia commentary.  AMAZING!  As the cube spun on stage and the music grew to a loud roar… the dancers marched on stage in perfect FORMATION in all black outfits to start with these huge brimmed hats so we wouldn't see any faces.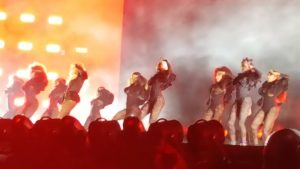 They took their places on stage and began nodding their heads.  We still couldn't see any faces, but with each nod, they lifted their heads a bit higher than the last until the screen revealed…BEYONCE… nodding her to the beat in perfect FORMATION with a facial expression that said she has arrived and was here to give us (her BEYHIVE) one heck of a show.  The crowd went wild, and by crowd I mean… ok… ok…ok… who am I kidding…
ME!!! I WENT CRAZY!!! NUTS!!! BORDERLINE Ba-ZERK!!! (me jumping up and down) screaming applauding, dancing, singing, you know…performing.  I just couldn't control myself.  And why would I.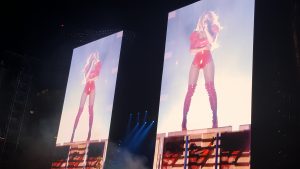 Song after song, hit after hit, every song perfectly choreographed and synchronized.  Band… on point!  Dancers… on point!  BEYONCE… didn't miss a beat.  Outfits… FLAWLESS.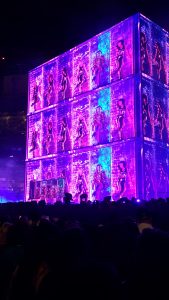 Lights… perfectly timed.  Fire… right on queue.  Wait… did I say right on queue? I almost forgot… queue confetti.  Yeah, I said it… magically from the sky was CONFETTI… lots of it.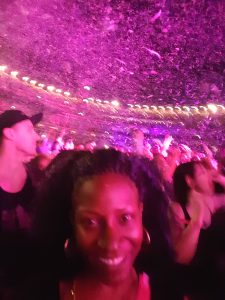 On stage last night, BEYONCE reminded us that she has been in our lives for nearly twenty years.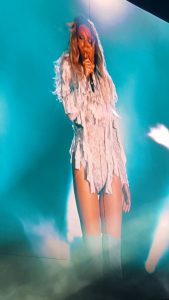 She used the cube to remind us of her start in the industry and to perhaps to remind herself of what life was like for her before we (the BEYHIVE) had any idea who she was.    She even choked-up for a bit, I guess in remembrance of all that she has accomplished in life, showing us footage of her telling a camera once upon a time… Beyoncé will always be humble and if we see her in the future and she acts any other way… slap her.  A lot of people with a lot less could surely heed those words.
She took time to pay tribute to PRINCE reminding the crowd that this day, June 7th, is our highness' birthday and incorporated The Beautiful Ones into her set.  She then, in tribute, left the stage now illuminated PURPLE to let the crowd enjoy the full 9-minute version of PURPLE RAIN.  BEAUTIFUL, WONDERFUL, and MARVELOUS it was.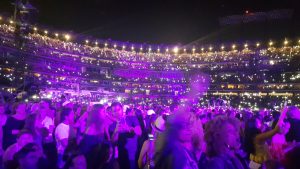 As the concert draws to a close, some in the crowd have had enough, they are now sitting, some even left.  I know this because the person to my left moved down, I know she hoped I would stop bumping into her.  (No chance, I moved down too cause us performers need our space to move.) But, the BEYHIVE, we were up, roaring, and ready to go.  At least I was.  I never sat down!!! Didn't want to either…
As the show winds down, I'm creating a list of songs in my head she still needs to sing.  And as BEYONCE hits the stage for the final set, I notice she's not wearing any shoes.  WHAT??? Bey always dances in her shoes… (I forget the list) She starts to sing FREEDOM, one of the best songs on LEMONADE (the new album) Bey is the last in line as she and her dancers make their way to the secondary stage where BEY manages to change the game, reinvent herself, and SHOCK and AWE us again (if that's possible) but…
SHE STEPS INTO A POOL OF WATER… no seriously… WATER, a pool of it!!!  Where she and her dancers complete the final set of the show.  Splashing around, using the water almost as prop within the sequence.  It too (the water) was perfectly timed and choreographed to the beat of the music.  It could not have been any more fitting of a closing set to fit the mood, the song, and of course, the artist… BEYONCE Knowles-Carter.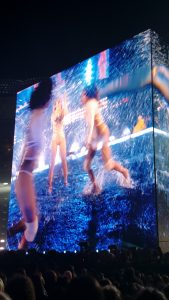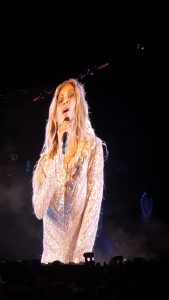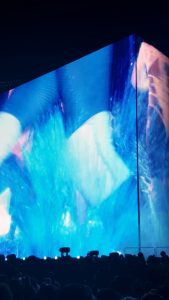 As a fan, I wish I could say that I knew what to expect when I arrived, but you can see that BEYONCE has grown as an artist, singer, song writer, and most definitely as a performer.  BEYONCE has single handedly managed to change the game in the music industry.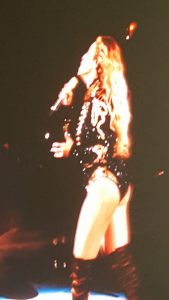 First, dropping an album overnight with no prior notice to even her record label. Second, creating visual albums to coincide with the album, providing the fans with every video for every song and an album all in one shot.  And now… stealing the show at someone else's Super Bowl performance, while simultaneously announcing a WORLD (mind you world) Tour that begins to sell out even before the album is released.  And trust, despite not having the album well in advance, at the show… we-knew-all-the-words… to EVERY song!  To further think about it… imagine the kind of respect and loyalty she receives from her team and those around her in that these secret albums, tours, and videos are never leaked in this day and age where everybody records everything and sells anything for a quick dollar.  Despite what some think of BEYONCE, she is living proof that hard work, commitment, dedication, and perseverance pay off.
I, and I'm sure most of my 45,000 closest friends, left the concert feeling like we got what we came for and more!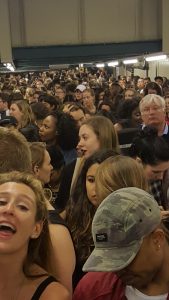 She gave us a perfect blend of the old and the new.  She changed up the choreography on the old songs so that it was fresh but us loyal attendees still felt like we knew the routines.  The Michael/Janet Jackson military dance offs (when each move = one beat of the music) were perfection. (She is really getting good at those… way to pay homage BEY!)  My decision to attend the concert happened well before my decision to host Rashia's 2016 AWESOME Summer of FUN!!!  But it's only fitting that this concert was a part of this summer.  Not only was it amazing… it was most certainly AWESOME!!!
"Freedom!  Freedom! I can't move.  Freedom cut me loose!  Freedom!  Freedom!  Where are you? Cause I need Freedom too! I break chains all by myself.  Won't let my Freedom rot in hell.  Hey! I'ma keep running cause a winner don't quit on themselves…" – BEYONCE Knowles-Carter