First… Let me start by saying… My nail technician really out did herself this week!!!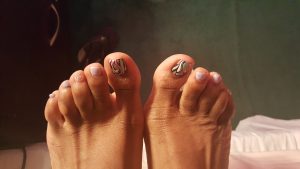 Although I know I need to type up two other posts documenting all the events of last week. (And boy was it a packed week!) I am somehow compelled to write about my experience in the nail place today.  Not solely for the outstanding creations that are currently my nails, but for today's overall experience.
If you know anything about me, you probably know that I have had a standing Saturday morning @ 7:45am appointment every three weeks with the same nail lady for the last 15 years in Cranford, NJ.  Together, we have been through super long nails, short and boxy, a red phase, the ongoing pink phase, and we even grew them out together so I could start rocking my current look… the pointy nail.  It's always been very standard… wake up super early to get to Cranford, pick a color, get nails then feet done, take nap in pedicure chair while feet dry, then leave.  The only thing that has changed is I've stopped taking the nap at the end because I made the switch to gel polish on my nails and feet.  Meaning… no wait – immediate dry!  (Gotta LOVE it!) That means, I haven't waited around in a nail place in 15 years.  Which also means, I haven't felt that sense of camaraderie with my 'sisters' sweating it out in the nail place (or beauty salon because my hair is natural and I do it myself) for quite some time.
Today brought me back to my roots.  Although I was scheduled to have my nails done at 10 (I arrived at 9:50) and things were off to a good start with my new nail technician, somehow schedules were crossed and I had to do a lot more waiting around than expected. (No worries) Mind you, this is only my third time at ViVi Nails, downtown Newark, but the same woman has done my nails all three times and I would like to believe that if nothing else… today has proven that we have developed a rapport.  BUT…
More on that later, what actually compelled me to write this post are the two things I heard while in the nail place during my extended stay.  (I'd like to think of this as what may become a new feature… Random Thoughts…)
The 1st thing I heard…
A girl sitting in the pedicure chair next to me was on the phone with (and I can only assume based on the conversation) her significant other whom she lives with.  The conversation starts with her saying… I'm not buying a whole bunch of meats because they cost too much… So&So (didn't catch the name but assuming again it was her daughter she referred too) said they wanted backed chicken and mac & cheese so that's what she's making.  Honestly, hearing that was totally innocent, I mean she's sitting there talking and I have ears so – I heard what she said.  I was actually reading a magazine.  The conversation continues and I'm sure I missed much of it when I hear… Well it is what it is, I guess things are never going to change, we don't go anywhere because you say you don't want to spend any money, at least not with me anyway, but I guess when you hang out with your ni***s it's a free for all.  Clearly when this is the topic of the conversation your voice elevates a bit out of frustration so it's no surprise I heard this… again, I do have ears.  She continues… Last time I checked doing things costs money, but you say you don't want to spend any… The only time we see each other is before I leave for work in the morning and when you come in the house after 10 at night… What, you expect me to be at the door to greet you like a dog at all hours of the night… I have to leave for work at 5 in the morning, I'm not doing that…  I mean I'm over it… I realize things aren't going to be different, I've been dealing with this for three years.  In my head… WAIT… WHAT??? Three years???  At that moment I just wanted to hug her… THREE YEARS???  Thing about it is you could hear in her voice she was really over it.  What was even more telling is that her voice was only slightly elevated… she was not screaming or waving her hands around or doing the neck roll the way me and my 'sisters' tend to do when we are very (let's say) passionate about something.  She was very calm and very deliberate with her words… I'm over it.  I immediately thought of R. Kelly's song When a Woman's Fed Up (the next line is) There ain't nothing you can do about it.  Kellz goes on to say after repeating the title line… And it's too late to talk about it.
Random thought:  I know I don't have a man or any prospect of a man.  Good thing for me I'm ok with that.  Put please do not ever let me be so caught up with some one that I'll deal with their …ish for three years. Life is hard and although I would love to be in a dual income situation.  May the LORD continue to bless me to always be in control of my circumstances so that I don't have to put up with someone's …ish for three years.
The 2nd thing I heard…
As I was walking from the back to the front of the shop, I pass a young girl with her mother. (again assuming) And I swear I heard this whole sentence as I was walking by, I didn't stop to tie my shoe, didn't drop anything and stop to pick it up, just walking by.  The little girl (maybe 8 or 9) says… Well, it's a good thing you like girls now because now you don't have to worry about getting pregnant.  In my head again… WAIT… WHAT??? Did I really just hear that??? Of course I didn't go back to ask her to repeat herself, so of course that's what I heard, otherwise where would I get those words from.  I wouldn't even think to think that sentence, let alone make it up to post in the blog.  I have two other posts to type… I ain't really have time for this.
Random Thought:  WAIT… WHAT??? REALLY!?!?!!! Is this the new conversation?  Maybe the little girl was 10 or 11.  I didn't get a good look at her, but all I can feel is… oh my… (Clutch pearls)
Anywho… back to me, Nana, and the fabulousness that is currently my nails…
Yes, that's my new nail lady's name… Nana.  One of the nicest nail ladies in the business and super talented.  So I needed to find a new nail place because my lady of 15 years quit me.  (Yeah… she just stopped calling) And I was ok with our break up because I had seen pictures of different nail designs, but she wouldn't do them.  As I started my quest to find a new nail place, I had actually come across pictures of nails designs created at ViVi Nails by Googling 'best nail salons in Newark'.  These are so nice I thought, I want to get someone that can do things like this.
My first day at ViVi Nails, I was placed in Nana's chair because they said she was patient and the best at Gel manicures.  And that she was… she took her time and didn't make me nervous. (Because it's hard for me to accept new people) When it came time to polish I asked for designs but had no idea what I wanted.  We went through this whole ordeal of what color, there were so many to choose from and of course I wanted more than one color, plus glitter.  I had to figure out a design so she took out her phone to let me look through the designs and there were more designs than colors.  Then I had to figure out what specifically I wanted on each finger.  I mean… it was really a lot.  But we got through it.  I left happy and told her I'd be back in three weeks.  To which she replied… I don't take appointments that far in advance.  Oooohhhhhh… not only do I get it, but I understand.  So…
I show up three weeks later on a Friday evening to speak with Nana directly.  We agree that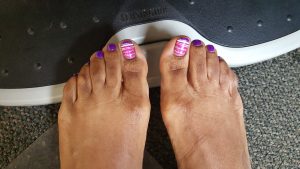 I'll be there Sunday morning at 10am.  (Appointment scheduled) And I do, we begin the nail process without interruption.  Nana is still just as patient and professional as the first time, but now we have a history.  I know she's gonna ask me about what designs I want so I ask her to see her phone so I can look through them.  I already know what colors I want… pink, purple, and of course… GLITTER!  She polishes my toes first and asks me what design???  I dunno… I say… stripes, but just do what you do and make it nice.  I didn't gawk as she polished my toes, but when she finished I was thrilled.  So when it was time to polish my finger nails, I asked her to do one of my fingers like the design on my toes, but I wanted a different design on another finger.  Which finger…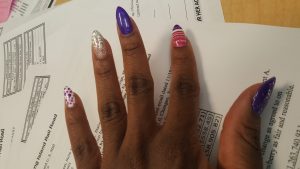 I dunno.  Which design… I dunno.  But I saw some circles in the photos.  Show me she says… we go over the color choices again and she does her thing on hand #1.  We get to the second hand and she says… do you want me to keep the same order or switch it around… What… I dunno.  She decides on the switch around.  This is my second time here and my second time leaving happy.  So I say…  Three weeks, she says yes but call the shop.
Of course, again on Friday three weeks later, I show up to the shop to schedule todays appointment for Sunday morning at 10 where all this happened.  She brings me the color wheel and I say I'm thinking more pastel colors today.  She helps me pick two, then she says… you need one darker color to bring the look together… ok, so I choose.  She also brings over six different GLITTERS!!!  My Lucky day… we decide on two.  She asks about the design and I say… of course I dunno what design I want.  She says, so I should just do what I do… and I think…
Finally… me and Nana have a connection.
She polishes the toes first, going back and forth between the five bottles of polish bottles.  She pulls out the special nail tools and let the artwork commence.  I have no idea what she's doing and at no time am I concerned.  She did my feet first but they are so far away from my face, I didn't really get a good look at them.  As she does my nails, she again goes back and forth the between the bottles.  The tools are back in hand.  Although me hands are closer to my face, I still didn't really get a good look at them until she was done… or at least I thought she was done…
She wasn't… Nana digs through her station and pulls out some stones (that's right… nail design stones) She takes one hand and begins to apply the stones to one of my nails in perfect #formation.  While I've never thought I'd be one to wear stones on my nails, I must admit…  I-kinda-like-it!  She does the other hand and says to me… these two nails are on me because you had to wait.  (Now that's customer service) Just as I was thinking that I would like her to take a picture of these beautiful nails with my phone… she pulls out the ViVi Nails background paper because she wants a picture of them too!!!  So I give Nana my phone and she takes flicks with both phones of this very beautiful creation that is my nails.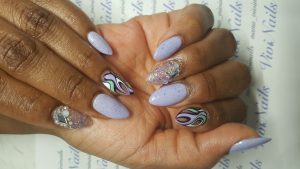 I am soooo happy with them and I'm grateful she threw in the stones. (Smart of her to throw them in, I may have never asked for them, but now there's a chance I just may) It's only my first day with them but think I'll do it again.  But I am certain I'm going back.  Thanks Nana…