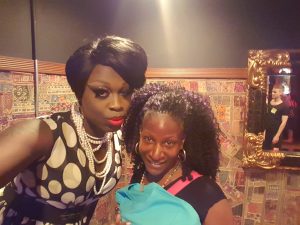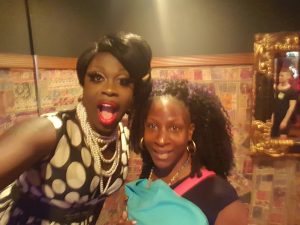 First off… when you meet the 6ft tall Glamazon that is BOB the Drag Queen and she says to you…  Why just wear some of the hair when you can wear allll the hair!!!  You know you are right where you were meant to be looking the exact way you were supposed to look in that moment.  You know despite what you went through the night before, this evening was meant for you and you are so grateful that you were not derailed from seeing this show.  You needed to be here!!! Cause if you know me, you already know… I'm a big fan of shows…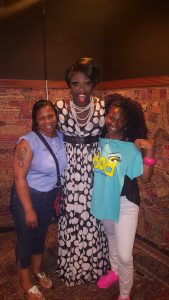 I asked my girl Sylvia to join me at the show and she's never heard of the Drag Queen.  Although I know the Drag Queen from RuPaul's Drag Race, neither of us had any idea of what to expect from the show. All I knew is that, I–was–going!  The idea to see BOB the Drag Queen came to mind when I was invited to a Bridal Shower and was told we were going to LIPS (Drag Queen Dinner Theater in NYC) after.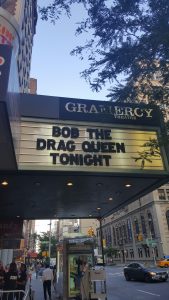 I got so excited at the thought of seeing BOB the Drag Queen that when I saw she was not a part of the LIPS cast,  I literally tracked her down to the Gramercy Theater. (Seriously Rashia, do you think all Drag Queens are going to be at LIPS – silly girl – but wishful thinking) BOB the Drag Queen is the season 8 winner of the wildly popular RuPaul's Drag Race.  (Think cross between Project Runway and Top Model, but better!)  I've been a huge fan of the show since the very first season. (thanks KP) And although I'm a huge fan, no other Queen from any other season has made me want to see them in person like BOB the Drag Queen.
From the very first episode, her confidence, character, humor, and wit jumped through the screen.  She was contagious!  She laughs out loud at jokes, will snap on someone quick – but only in the nicest possible way (#SHADE), she'll help you, she'll come for you, and of course she will turn a challenge.  But… it was the third episode of the season, where the Queens had a team challenge performing skits adapted from Empire.  BOB the Drag Queen played Chocolate Chip Cookie (get it, Cookie) where she turned it and sealed the deal.  From that point on, you knew she had something and she was destined to win!  Throughout the season she expressed that she has been a huge fan of RuPaul's show since it started.  (OMG! We have something in common!) And as she watched each season, she not only would imagine what to do for each challenge but she actually completed the challenges.  AND it showed!!!  She won hands down, which brings us to this moment…  BOB the Drag Queen… live at the Gramercy Theater in NYC!!!
Our show tickets came with a meet and greet of the Queen before the show started.  Of course they walk you pass the merch,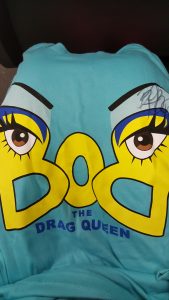 so that you actually have something for her to sign, and of course I bought a t-shirt.  As we enter the room where she is, camera ready, she says… Why just wear some of the hair when you can wear allll the hair!!!  Yaasss, I needed to say it again.  (2 snaps) A gentleman gets a quick snap of Sylvia and me with BOB the Drag Queen and gives me back the phone.  Wait… no selfie???  (Just doesn't seem right) so I ask, can we do a selfie please… and before I knew it… BOB the Drag Queen rips the phone from my hand and takes the perfect snapshot.  (OOhhhhh, so glad I came here!!!)
As we wait for the show to start over a few cocktails, we get to know our neighbors and everyone seems excited.  The place is packed and after waiting for what seems like forever, an opening act is announced.  I was kinda disappointed, because I like to get right to the main event, but the opening act was actually funny.  (Turns out this is a stand-up comedy show, who knew???)  But he was really funny.  Wow… if the opener is this funny… What about BOB???
What about BOB???  The Drag Queen???
As if you need to ask…
Super fabulous and super funny!!!  The 6ft tall Drag Queen stepped to the stage and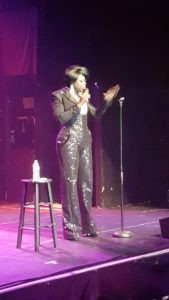 commanded it!  Interacting with the audience… Can I have some house lights please? I need to see the people.  Leading off with RuPaul references we'd all recognize from the show. (well, except Sylvia because she didn't watch) Talking about the issues: bullying, gun violence, and of course, Orlando.  BOB the Drag Queen actually made a point to mention how important it is that we live our lives and have fun in spite of the negative that may happen and even as we take time to mourn.  He said the people in Orlando were out living their lives and that we all should too, which made me feel a lot better about coming to the show.
BOB the Drag Queen went on with a 1 ½ hour stand-up comedy routine making sure we laughed every 30 seconds.  She was really funny.  She discussed her childhood, living in NYC vs Atlanta, her journey on the show, and how winning has changed her life.  BOB the Drag Queen brought all the qualities that made her successful on RuPauls Drag Race, right there to us in NYC at the Gramercy Theater.  It was easy to see why she won her season.  It can't be easy to take a legacy held so tightly by one individual that they literally created a show to try and develop others.  She understands that she is not or never will be RuPaul.  But, BOB the Drag Queen is set to leave her own mark on this world… purse first!
You really had to watch the show to get the purse first reference.  Check the video here @ BOBtheDragQueen.com
Get this, in the video, she's carrying actual purse and wearing the actual dress she made on the very first episode of Drag Race.  #destiny