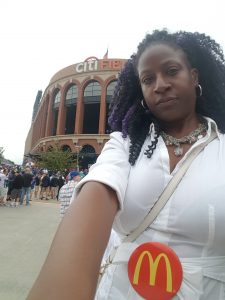 So, here I am.  July 2016.  It's the second month of Rashia's 2016 AWESOME Summer of FUN!!!  Things were jammed packed in June but to be honest, the July calendar isn't really all that full. (If you have things for me to do, let me know!) So imagine my reaction to an email that says, I have an opportunity to sing the Star Spangled Banner at Citi Field (where the NY Mets play) on July 9th.  What? Who? Me? My thought… Here you go Rashia… your 2016 AWESOME Summer of FUN!!! just got AWESOM-ER!   I mean, most professional singers don't even get this opportunity.  My thought… I–am–doing–this!
How'd this happen…
In 2014, I signed up for the McDonalds Gospel Choir as they were attempting to break the world record for the world's largest choir.  I never made it to the record breaking attempt, but 2 years later, I still get the emails.  Just so happens, this one came up during Rashia's 2016 AWESOME Summer of FUN!!! The email came with less than a week's notice of choir rehearsal on Wednesday night before we (notice I said we) were scheduled to sing.  Because I hadn't been to any other choir outings, I was nervous that I may be turned away. I wasn't, they embraced me with open arms. (I guess when you need people, you need people) I was soooo glad to be one of those people, especially when the Choir Director said… all those who are here this evening will be singing on Saturday.  Be to the stadium at 5:30.
Now me… I can't sing my way out of a wet paper bag.  Luckily… I was brought up in the black church and sang in the choir.  So singing in a choir… I can do that alllll day!  Because of my roots, I know I'm an alto.  And it pays to be observant, because when I walk in to rehearsal, I notice there are three sections.  So I act like I know and ask someone which section is this… response ALTO.  Perfect… I'll just sit here right next to you then… right here in the front row. (okay)
First, the Director goes over the instructions for Saturday.  Be there at 5:30, meet at this gate, then we go to the auxiliary locker room, then to section 109, then to the field to… S-I-N-G!!! (You got it sir, I'll be there at 4:30) Next, rehearsing the song, which should be easy for me because I've been listening to the Whitney Houston version of the song all day!  (Got to be prepared) Again, because of my roots, I know how to follow a Choir Director.  As he moves through the song, I follow.  Altos ready… I need you here… ok let me hear it… And we sing.  The Director moves through the song, verse by verse, section by section.  As we do this, I notice a number of people are recording.  Then the Director actually says, I hope everyone is recording this.  I think uh-oh and pull out my phone and figure out how to work this recordy thingy.  I figure it out, and start recording.  Guess it makes sense… we only rehearse one day and we're going live at the stadium in three days. (Maybe I should practice at home) We make our way through the song about four good times, go back over Saturday's instructions, and rehearsal is over.  And just like that… I am singing the National Anthem at Citi Field on Saturday!!!
Do you realize how big of a deal this is… like I just saw Beyoncé here!!!
Now it's Saturday… I am super nervous and super excited all at the same time.  I finally decide to listen to my recordings while I wait for the bus.  Good thing it was 15 minutes late. (Gave me extra time) 107 to Port Authority, 7 train to the stadium.   As I wait on the platform for the train a woman approaches me and asks… are you in the choir?  Me with my head phones on gives her the… you are a crazy person look.  But she was persistent, forcing me to hear what she had to say and I think to myself… what gave it away?  Oh… we were told to wear white shirts, blue jeans, and sneakers. (Check!)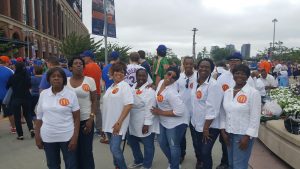 She and I ride together to the stadium (I'm still listening to my head phones) making our way to the entrance when we see a group of people with white shirts, blue jeans, and sneakers.  I guess they spot us too because they yell out… over here.  We all gather around… and wait.  And wait… and wait.  Waiting for what seemed like forever because the Choir Director didn't show up until 6pm!!!  Luckily the game doesn't start until 7:15pm, so we still have time.  But not much time because at this point, the Citi Field staff come outside looking for us. It's time to get inside if you guys are going to do this and in we go.  Just as scripted, we go to the auxiliary locker room, rehearse, then to section 109, then to the field, where it happened…
I sang the Star Spangled Banner at Citi Field!!!
No seriously: I sang the Star Spangled Banner at Citi Field!!!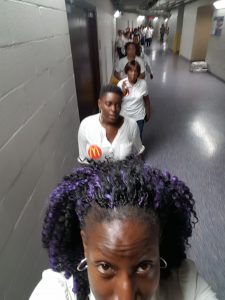 As we sang the song, I could hear our echo in the distance.  We moved through it without any noise from the crowd following our Director to the T.  I guess with the echo, that means delay, because just as we were finishing up, the was a huge roar from the crowd.  Everyone was standing and cheering.  As we walked off the field, there was more applause and kudos from the crowd.  Unfortunately, I didn't record the moment, but that's ok, it's one of those memories that my 2016 AWESOME Summer of FUN!!! was designed to create.  One that will live on in me forever.  I've never had singing the National Anthem at a major league stadium as a goal, but to do so… AWESOME! I just may stick with this choir, after all, they are the 2014 World Record Breaking Largest Gospel Choir.  Thanks McDonalds Gospel Choir for letting me be a part.  Truly AWESOME!