Being the Beach Bunny I am… if someone I haven't seen in a while asks me to a beach day… during my 2016 AWESOME Summer of FUN!!! What do I say? I say y–e–s right?  It's a weekday beach day in July… pretty normal right!?!???  Sunny skies… no traffic… 2 piece… beers…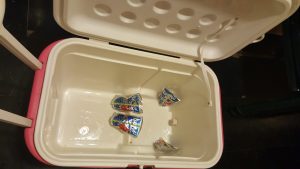 I just shoulda known something was going to be a bit different today when I got ready to pack the cooler and there were juice boxes in there.  WHAT?  WHO's cooler is this?  WHY are there juice boxes in here?  I'm lost…  Anywho…
The morning started like any other beach day (sans those pesky juice boxes) wake up, shower, sunscreen, pack the cooler (remove juice boxes, beers on the bottom, put juice boxes back on top as camouflage), grab the chair, more sunscreen, the other essentials, and let's go.  Hit the highway, exit 117… hit the grocery store for some snacks… (OMG, this nice lady at the deli counter made me the best turkey sandwich) (OMG!!! It was sooo good!!!) (She put the love in it!) and its Sandy Hook here we come.  I didn't know I was going to Sandy Hook beach and I don't think I can say I've been there before.  It's funny how life works though, because a few friends just mentioned it to me over the holiday weekend.  Either way, I didn't mind where we went, as long as there was water, sun, sand, and me. (4 more beach essentials) I usually go to Point Pleasant Beach which is further down the Parkway and you have to pay to park and pay individual admission for beach access.  But here, $15 to park and includes beach access… no matter how many people in the car.  (That's 1-2-3 points for Sandy Hook) I already like it.
After passing through the admission gate, we drive for like another 10 minutes when (get this) my friend pulls over and puts me out of the car. (What the heck is going on here???) You wait here with the stuff and I'll go park.  (Oohhh… ok I get it.  I'll just wait here)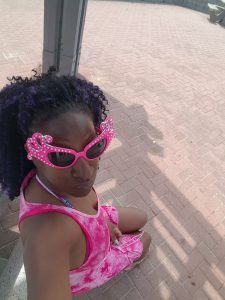 I'm also thinking, finally… we made it to the beach, because that was a mighty long drive to get here from the gate.  Little did I know, we still had to walk about a mile before you could even see the water.  Imagine… dragging the super heavy cooler, carrying the chairs, and all my other beach crap for a mile. (-1 point for Sandy Hook, they need a shuttle) Good thing I didn't bring everything, but had I known… I certainly woulda brought the beach buggy.  (I mean what's the point of having it if not times like this) Anywho…
As we continued the long walk toward something that looked like the ocean, we come across a sign, which I'm not so sure was a sign or a warning.  (Maybe a combination of both) But ooohhhh… I get it now, this is why the drive from the gate is so long and the walk to the beach is more than a mile long. (Yes, I increased it!) Total seclusion. (+1 point) For what you ask…
This beach is clothing optional. (-1 point, +1 point, this one is up to you)
Whhaaattttt??? Optional?  You mean like a choice?  I think… Ummm, I'mmmm not so sure about this… When I realize the other reason the drive from the gate is so long and more so why the walk to the beach is more than a mile and a half long. (Yes, I increased it again!)
They do it because there is no way you are gonna let some silly sign send you allllllll the way back to the car.  At this point you are much closer to the water than the car.  So, you just deal with, and when you get situated, don't act all weird.  (It comes across judgy)
We make our way to a spot on the beach and get comfortable.  How comfortable??? I'll never tell.  Despite, the people around you exercising their option to go sans clothes, it was actually a really a nice beach.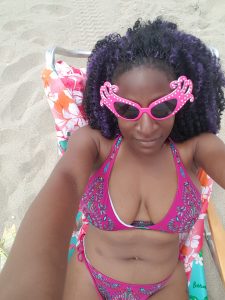 (+2 points) Although it was only Thursday, it wasn't too crowded. (+ 1 point) Not too many kids. (+12 points) And super tranquil. (+4 points) It felt like vacation in NJ!  There was room to spread out.  There was only sand or water in either direction because I really don't recall any buildings.  And to top it off… you are actually allowed to bring beers to this beach.  There was no cooler check.  No need to add the juice boxes back to the cooler, or any of those waters either.  Had I known, that cooler would have been a lot lighter!!! (+17 points) (+12 more points for good measure)
Rashia's 2016 AWESOME Summer of FUN!!! is about new experiences, and this was one of them.  If you can get over the long walk to the beach (travel light) and those who decide to go sans clothing, Sandy Hook is a great beach to spend the day.  (Although I was told that beach gets really crowded really quickly on the weekends so get there before 10am) But, if your life is fulfilled by staring at and talking about other people, this probably isn't the beach for you.  You may want to stick to those family friendly beaches, with all those kids running around and you have to hide the beers. (Even though there were kids here) However, if you are a mature adult who understands that we all came into this world sans clothing and some folks really don't like tan lines, then you will have a pleasant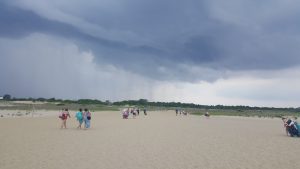 day on this beach.  Or… if your maturity level needs work and there's a book you've been achin' to read but haven't found the time so you need a reason to just keep your head down, bring it with you and you just may enjoy your day on this beach.  As for me… I had a lovely day.  That is until the rain came, good thing though, I had a wedding to get to that evening.  Something had to get me to leave.
Until next time Sandy Hook… who's coming with me???